Finding Indian food is getting easy worldwide. One can atleast find one Indian restaurant in any foreign city. I had my share of experience in Shenzhen, China. Below are some restaurants where you can find good Indian food in Shenzhen.
1. Bollywood Cafe.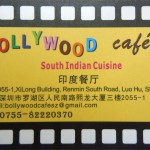 Located in the heart of Luo Hu city, this restaurant specializes in South Indian Cuisine. The ambience is good and so is the food. The menu include Dosa, Indian Chats, Main Course and lots more… The setup is very cosy and nice. As the name suggests it has its inspiration from Bollywood. You can feel the bollywood touch right from the entrance of the restaurant to the menu card. The tea here is worth a try. Special items which are not included on the menu, but a great invention of the manager here – Mr. Yogi – Dabeli and Vegetable Bullets. These two items are a must try here.
Address: 2055-1, XiLong Building, Renmin South Road, Luo Hu, Shenzhen.
Food Quality: 4.5/5
Price: 4/5
2. 1947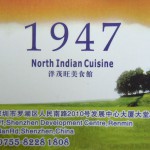 Located just opposite Bollywood Cafe, this restaurant specializes in North Indian Cuisine. The menu here is extensive and contains items just like a regular restaurant back in India.
Address: 1/F, Shenzhen Development Centre, Renmin NanRd., Shenzhen, China
Food Quality: 3.5/5
Price: 4/5
3. Indian Inn Restaurant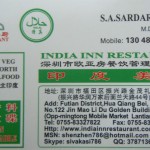 This is a budget restaurant, located at Hua Qiang Bei. This restaurant is very near to the Mobile Market in Shenzhen. This restaurant serves as an get away from the chinese food. The Masala Chaas (Buttermilk) is a must try here.
Address: Futian District, Hua Qiang Bei, Zhenxing Rd., No.122, Jin Mao Li Du Golden Building, Shenzhen
Food Quality: 3/5
Price: 4/5

4. Bombay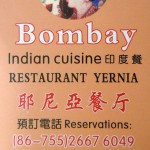 Located near to the Shekou Ferry Port this is again a good restaurant if you are looking for Indian food after your long flight and ferry. The food is not much to be talked about, but it does quench your thrust for Indian drinks.
Address: Shop No.116 Sea World, Taizi Road, Shekou, Shenzhen, China
Food Quality: 3/5
Price: 3/5
5. Taj Mahal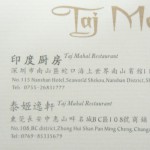 Don't be fooled by the name, its not a part of the Taj Mahal chain of hotels… This again is located near the Shekou Ferry Port and the food here is light and tasty. The menu contains lots of Indian snacks which is very good to have just after reaching the land of Tofu and Noodles.
Address: No.115, Nashan Hotel, Seaworld, Shekou, Nanshan District, Shenzhen
Food Quality: 3/5
Price: 3/5

6. Spice Circle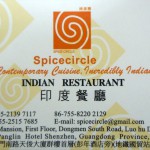 Again this restaurant is located in the heart of Luo Hu district near to 1947 and Bollywood cafe. The food here is ok and nothing special. The ambience is the best amongst the hotel. I wish the food too matched the ambience, but its not as good as compared to the other restaurants. Never the less its worth a try.
Address: Tian Jun Mansion, First Floor, Dougmen South Road, Luo Hu District, Next to Panglin Hote, Shenzhen, Guangdong Province, China.
Food Quality: 2/5
Price: 2/5
Apart from these restaurants you can get some good food in your hotel as well. You just need to ask for it. Fried rice is the easiest thing to get here, but you need to be very particular in telling them that you would be needing any meat, fish or other non-veg items if you prefer eating vegetarian food. Other then this you can get fresh fruits and juices for breakfast which is good. Pizza Hut is another option for Indians out here. They only have 2 options for veg. pizza, but the juices available here at pizza hut are worth trying.