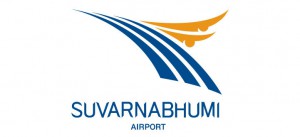 The upward sweep of the logo symbolizes the Company's (Airports of Thailand Public Company Limited) continuous growth & development and also the most important aspect, to be a leading player in the airport business.
Various details of the logo comprehensively represent the physicality of the Suvarnabhumi as an airport with the 3 blue strips representing the airport's runways while the 2 golden strips represent the parked aircrafts. Fram a different viewpoint, the 3 blue strips could also be seen to represent the arching top of Suvarnabhaumi's Passenger Terminal Building.
By combing the beauty of linear design found in Thai art with that of modern design makes the logo unique, reflecting the appropriateness of Suvarnabhumi Airport of Thailand.
The Font
Font design of the name "Suvarnabhumi" has also been specially designed so that the letter reflect a similar theme with each letter having Thai-ness at the end f the brush stroke; appropriately reflecting Suvarnabhumi as the country's International Airport
Colors
Copper Gold: The color of copper gold symbolizes prosperity and represents the meaning of "Suvarnabhumi" – "golden land" and thus the prosperity and strength of the Company
Blue: The color blue symbolizes circumspectness, prudence and friendship which represents the Company's character.
The logo was selected from the 635 entries in the Suvarnabhumi Airport Logo Design Contest, held from 20th July – 20th August 2009. The winner of the 1st prize is Mr. Taotai Suksirithada, a graduate student from Chulalongkorn University , who received 100,000 (one hundred thousand) baht and an award from HRH Princess Soamsavali.
Suvarnabhumi Airport Logo is a trademark of Airports of Thailand Public Company Limited (AOT).