So you always wanted to have a website for yourself? And the buzz about making money online is making you think about it over and over again. There are many options available today that one can use to make an online presence. There are no coding skills required to make your site, blog or even a website that encourages discussion.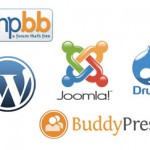 Having said that, some knowledge of coding or experience, is always an advantage, so that you can make custom changes. But still its not required, because your site would work well even without any changes. Well, lets get to understand each options closely.
Basic or Blog site.
If you plan to make a site wherein you will share your knowledge, write reviews, or on some particular topic on which you can write, then WordPress is the best option to choose. WordPress is a blogging platform. You can install this in a similar manner you install any other software. Many hosting providers offer options to get WordPress installed directly. WordPress is also a good option to make your portfolio site.
Below are some of the websites made using WordPress.
PratikBagaria (yes this too is powered by WP)
FashDesigns
Discussion, Groups, etc.
Now, if you want to make a site where people can come and discuss on topics, get updates and share things. For such sites there are 2 options. You can use PHPBB or Buddy Press.
Both of the names mentioned above do same kind of work, but in a totally different way. PHPBB is a forum script. A forum is a place where people can come, register and discuss on various topics. On the other hand, BuddyPress is a concept which is more close to networking sites. People can come, register and even have their blogs, and discussion groups. Each member has its own profile page, which contains updates about his blog, news and stuff.
Below are some of the forums made using PHPBB.
phpBB Community
Forum4Finance
Buddy Press can be tested using this site.
So now its your turn to decide. Its better to make up your mind first as to what matter your site will contain and the main purpose of the site. It then becomes easy to find a solution.
Comment here or contact me if you want to get more information on making websites.